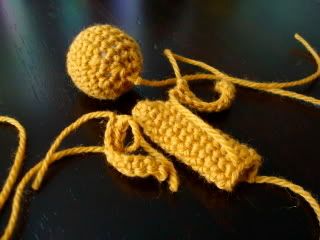 i've been and evening crocheting machine the past few nights. adam pointed out that it seemed fitting that i was crocheting body parts and sorting them into containers while watching dexter. i guess he's right. you know, with dexter being the bay harbor butcher and all! do any of you guys watch that show? i'm pretty nuts about it!
it's feels good to be crocheting again. espicially when a it's not dependent on a grade and your BFA. i have 7 little finger puppet bodies all ready to be stiched together and come to life! as well as some possible cute tree ornaments.
i still haven't ventured across the street to the fabric store. i think it's mostly because i don't have money to buy fabric, so i don't want to be tempted. actually, i haven't been back to the embroidery store either! man, i need to do some exploring. now that thanksgiving is over i'm not as worried about getting the house together so i will probably explore a little more.
also, i made my first turkey! it was a piece of cake!